Reason: To be able to join your devices to your network, you must own them digitally by adding/claiming them to your EVO account.

When purchasing any of our LoRa or NBIoT modules from Elvaco you will recieve an email from our warehouse department.
It will contain information about your batch of modules.


"
We have dispatched a shipment with products that requires security keys to operate.

For secure delivery of security keys, we use a cloud-based system called Elvaco EVO.

Use Elvaco EVO to claim the products shipped in SO211853 using batch reference ELV_SOXXXXXX

If You have any questions, please contact support@elvaco.se


"
If you have bought the modules from Elvaco you should allready have recieved an invitation to our platform EVO.
What you need to do is to log into your EVO account at evo.elvaco.se.


In the top right corner, press the 9 dots

and chose "Device catalog"
Now, under "devices" at the leftside of your screen, chose "Take ownership"

Insert your batch refenrece recieved in your email. In this case ELV_SOXXXXXX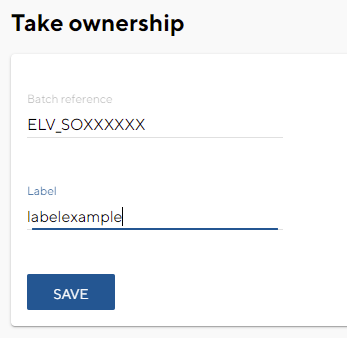 Label it if you want, then press save.

Now all of your devices in this batch will be located in your devicelist. If they dont show immediately, you can try to log out and log in again, or refresh your browser.

If you are the enduser of these modules (and not a reseller) you can claim your devices to your account. You must do this if you want the keys for the devices, and so that the devices will be able to connect later on.
If you are a reseller, and are not going to keep the devices linked to your organisation, dont claim the keys. If you do, they will be locked to your organisation without possibility to unclaim them.
For more information about the claiming of devices follow this link.
https://www.youtube.com/watch?v=GlbcL4-SPlU